MORE ACTIVITIES
Self-defence course
"We cook around the world" – international cooking
Sewing group
Learn learning
creative courses
theatre class
cultural projects
open rooms
consultation
SEWING GROUP
Once some of our students and some volunteers meet to have some coffee and cake while talking and sewing, knitting or crocheting. It doesn't matter if you have experience or not – everybody is welcome to learn from each other.
For further information please send an email to info@jack-berlin.org.
WE COOK AROUND THE WORLD
From time to time we gather to cook together: a group of women from one country or region cooks something typical. So we slowly cook our way around the world – from Somalia to Yemen.
SELF-DEFENCE COURSE
During one month, 12 women meet with a professional trainer to learn some simple but effective methods of self-denfence.
COMPUTER CLASSES
In our computer classes our students have the possibility to learn e.g. how to use a mouse, programs like Word or the Internet browser, to write with the touch system or send an email.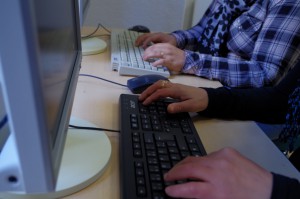 We also help with individual projects like applying for jobs, searching for a flat, finding out how to get to a place, doing some research and so on.
For us it is very important to work in small groups and help in each individual case. Therefore there is no compulsory attendance. The courses should be seen as a small help for integration into our society.
We offer computer classes three times a week. For more information please write an email to: info@jack-berlin.org.